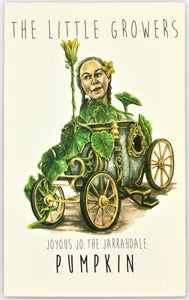 Hello dears! I'm Joyous Jo the Jarrahdale Pumpkin. I love my family, op shopping, bird watching and wearing flowers in my hair. I try my very best to help save our planet by saying no to plastic whenever I can. Mr Jarrahdale and I have just started a worm farm and we feed them all our left over food scraps. What do you like to do to help our environment?
Variety
Pumpkin Jarrahdale
Position
Full sun, moist well drained soil
Days to maturity
110-130
When to sow
Spring or after frost
Spacing/Depth
30cm/3cm
.
**Shipping not to Western Australia