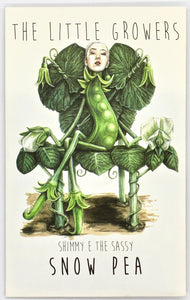 Sweetie! I'm Shimmy E the Sassy Snow Pea. How are you darling? I enjoy the finer things in life and don't particularly like getting my hands dirty. I live for fashion magazines, juice mocktails and makeup tutorials. I also consider myself quite zen and am always searching for inner peas.
Variety
Snow Pea Mammoth Melting
Position
Full sun, moist well drained soil
Days to maturity
70-77
When to sow
Late summer, autumn
Spacing/Depth
10cm/2cm
 .
**Shipping not to Western Australia or Tasmania